Laubach violins, meticulously handcrafted, far surpass nearly all other instruments in the same price range. Laubach master violin is carefully constructed from top quality old materials. Hundreds of hours are needed to complete each instrument. The precious acoustic woods are selected individually by master luthier so that the top, back and sides of each violin match beautifully. Our finest creations, for example, feature dense maple harvested from cold Bosnian forests- and then aged for minimum 18 years. Never a compromise with quality! The density, age and quality of our violin wood produces amazing resonance-  superb tonal qualities which are augmented by our fine craftsmanship.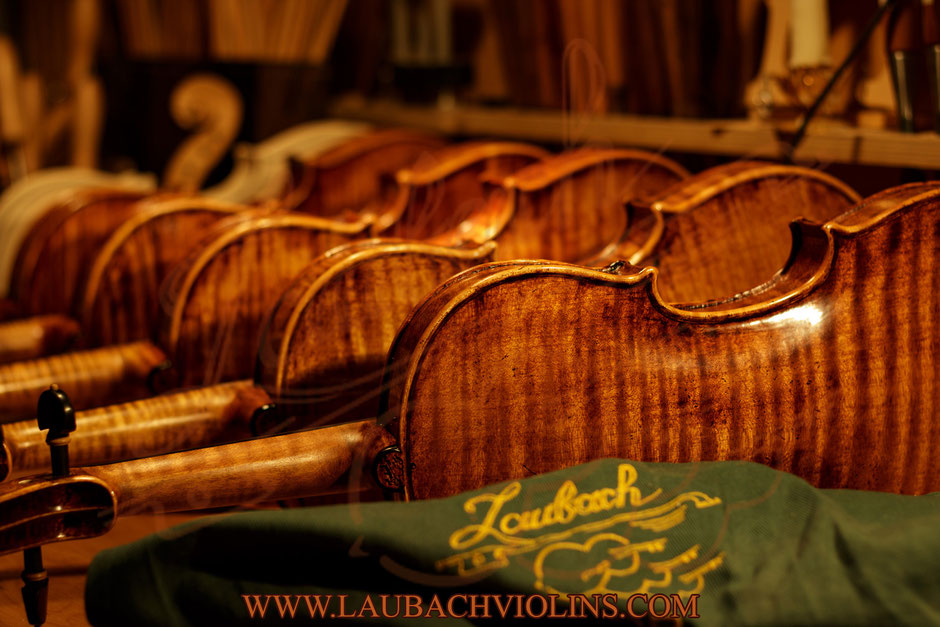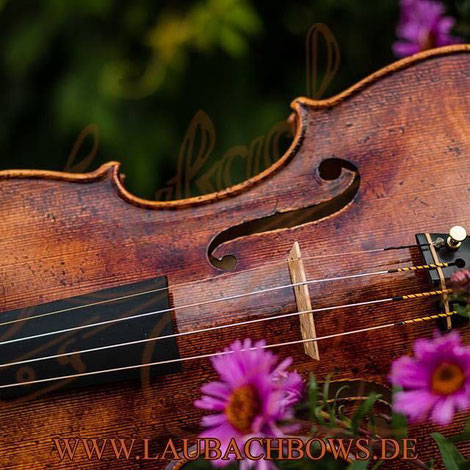 Our most popular  master model with no doubt is our "Laubach's limited edition violins 168-188V" which follows the legendary Stradivarius and Guarneri pattern for best overall sound performance. Each "Laubach's limited edition violins 168-188V" possesses an impressive deep voice with exquisite projection, especially for a new instrument- outstanding performance that will only improve with the passing years. Such qualities are normally found only in antique violins in the €18,000 - €38,000 range! Pronounced arches top and back provide ultimate sound performance that you will cause you to fall in love with this uncommon masterviolin! Our violins are available in antique finish - but either way, each one has its own distinctive personality.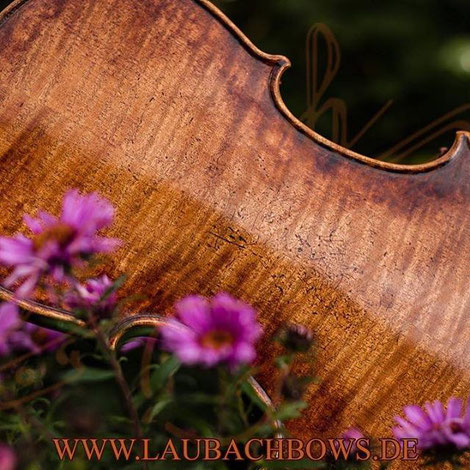 Yes, "Laubach's limited edition violins 168-188V" style have great playability and sound performance! And although the "Laubach's limited edition master violins" is dedicated to professional players, such excellence provides invaluable assistance to any advanced student who desires a perfect tool for perpetual progress! 
Laubach's violin limited edition violins 168-188V which is perfectly varnished has an amazing individualized antique. The beauty of Laubach instruments is both tonal and visual!
Our prices go from €6500 to €8900 depending the finish chosed and age of acoustic wood. 
  For any request or order, please see our contact form. 
  Each of Laubach master violin will gain character and sound quality year after year! We hope to count you among our many satisfied international customers!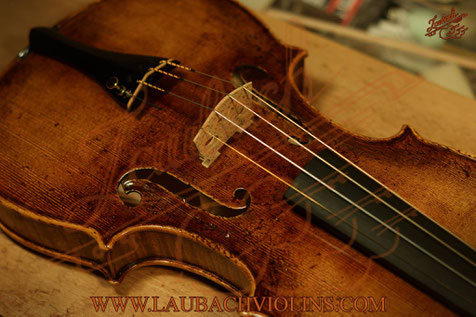 A superb  solo violin . Two-piece back of medium figure, the varnish of a deep reddish - golden oder or golden - brown varnish color.  This is a fine violin, suitable for the most demanding artist. The tone is bold and full, typical of the best work of this Bologna master. Back length is 355 mm Strad modelling, flawless workmanship. 
  Individually handcrafted Laubach violins Limited Edition Antique series from Laubach Master atelier. Best workmanship and only the very best available rare old tonewoods,  to insure this high level of quality.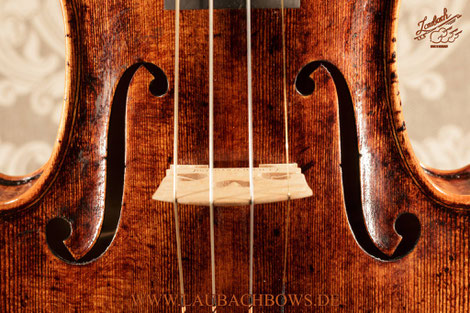 Experts see Laubach's limited edition violins with ease in competition to the old Cremona and Venetian from Italian masters and in one level with the instruments of other leading German luthiers of the 18th century.
   Individualists find here an inexpensive alternative that can hardly be distinguished from an antique master violin. 
The Laubach's limited edition model used for this instrument is particularly delicate and elegant, and its sound is refined. The violin Laubach responds quickly and has a bright and colourful sound.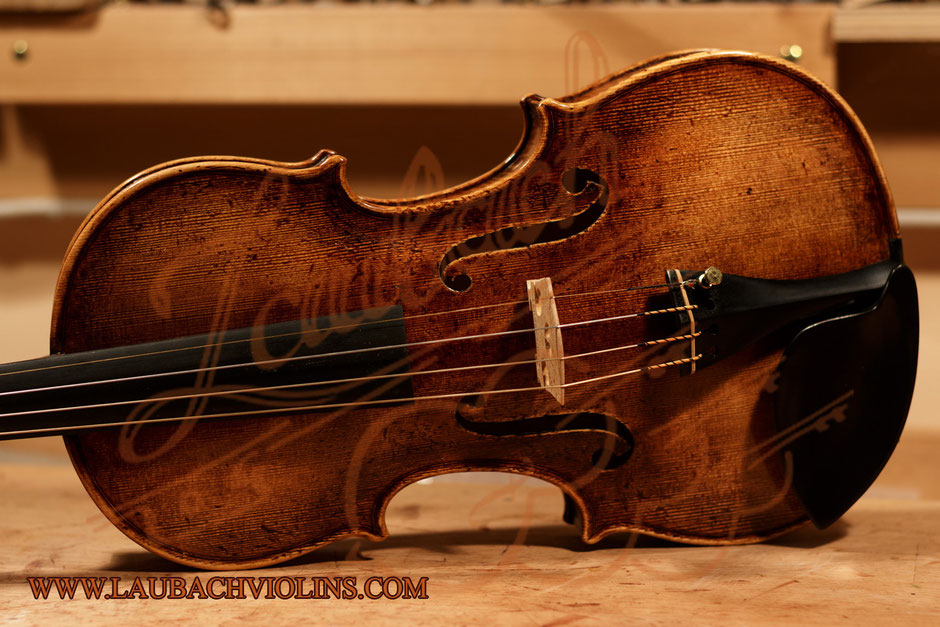 Though modest in appearance, this violin offers an unknown beauty and variety of sounds, deft and sensitive.
  This laubach violin model is made of old (more than 18 years), dried tone wood. This beautiful solo master violin handmade antique lacquered with absolute imitation antique violin. Clear lacquer on the gold - amber primer on the basis of natural resins and balsams using oils and minerals in the old Cremonese style. This violin is based on acoustic solutions and forms of old masters and has an exceptional aesthetic appeal.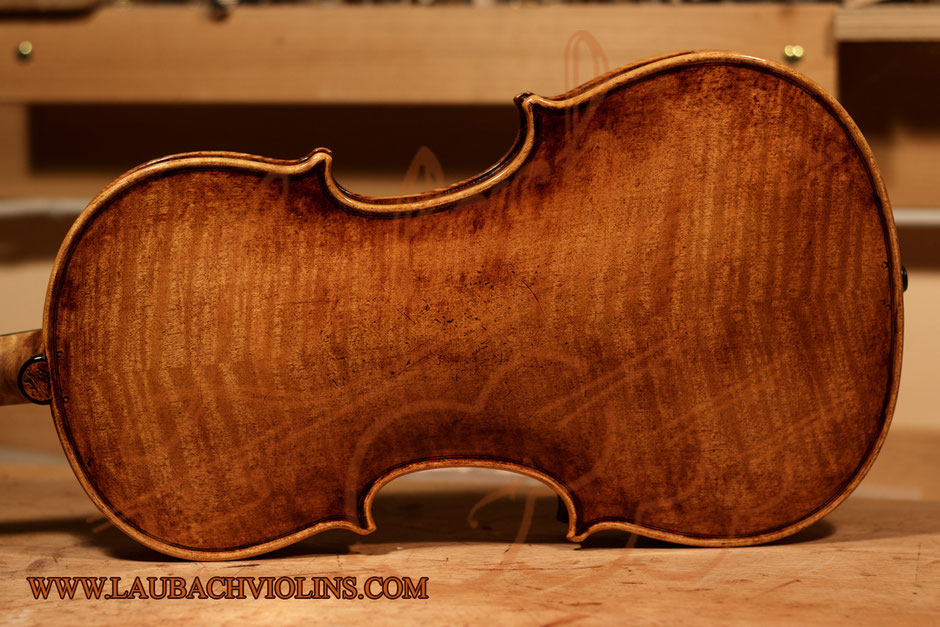 LAUBACH VIOLIN 168V ANTIQUE LOOK
  This violin is made with the utmost care. It gives the impression of age and long use thanks to the soften lines, the thin coat of varnish and the method with which it applied.
  Laubach violin varnish is soft in texture and is of a old golden-brown red color over  traditional old  golden yellow ground.
  The violin hand-brushed varnish colour change from the gold, in the light part, to the amber-brown in the dark share.
Interesting to look that the back (in maple) is in two pieces with descending flames from left to right for both piece. This just for remember one piece back.
This particular specially created limited edition violin has a rich, powerful tone with open brightness.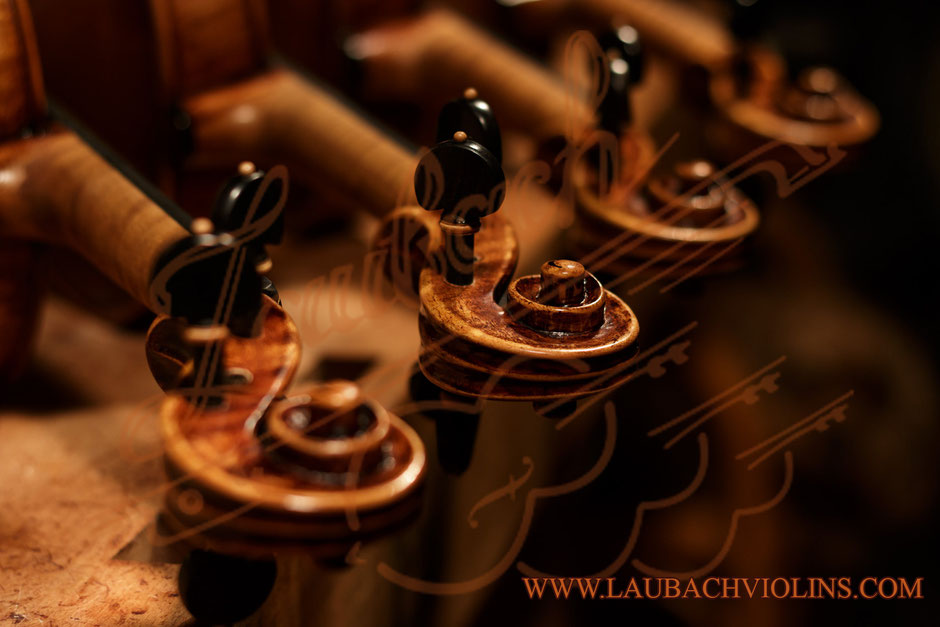 •  Viejo, tapa de abeto de dos piezas, ligeramente partida y textura simétrica.
• Fondo de dos piezas de arce, de anchura media, bien definido, simétrico, cayendo del centro hacia los laterales.
• Aros de madera de arce, mismas especificaciones que el fondo.
• Cabeza y mástil de madera de arce con menos grano que la parte inferior.
• Bóvedas bastante altas.
• Instrumento con construcción asimétrica.
• Señal de fuego en la parte superior e inferior de LAUBACH y logotipo.
• Copia integrada de la herramienta antigua.
• Lacado marrón anaranjado dorado antiguo.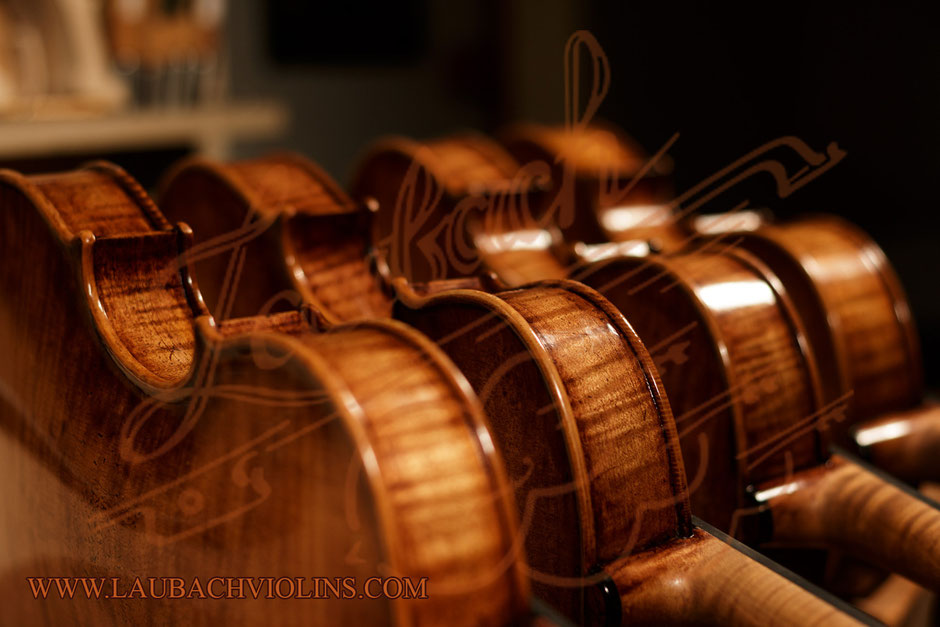 Our master violin is an ideal choice for the player who has exhausted the potential of his or her current instrument or is ready to move to a larger instrument. The rich, full-bodied tone of the Laubach limited edition 168V violin offers depth, brilliance and projection.
Laubach's limited edition master violins crafted in the Laubach workshop. 
From the selection of acoustic wood to the attention to detail, everything about these violins speaks quality. Beautifully finished with a hand applied oil finish, the deeply flamed old maple and select fine grained old spruce produce an instrument that is unsurpassed in this price range.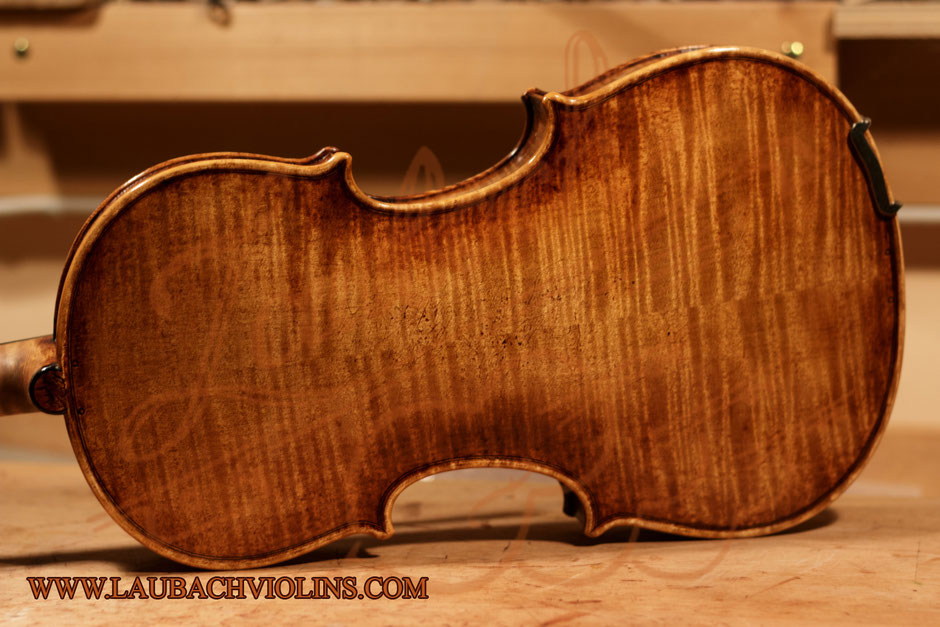 This Laubach violin has a meticulous craftsmanship.
  The clear work and the varnish, with accurate retouching, exalt the beauty of the wood and bestowed an elegant old look.
  The clear edgework is accentuated by varnish gradation that here appear more light respect to the instrument colour.
  This Laubach violin 188V antique has resonant, even and wonderfully complex tones across the board and plays easily.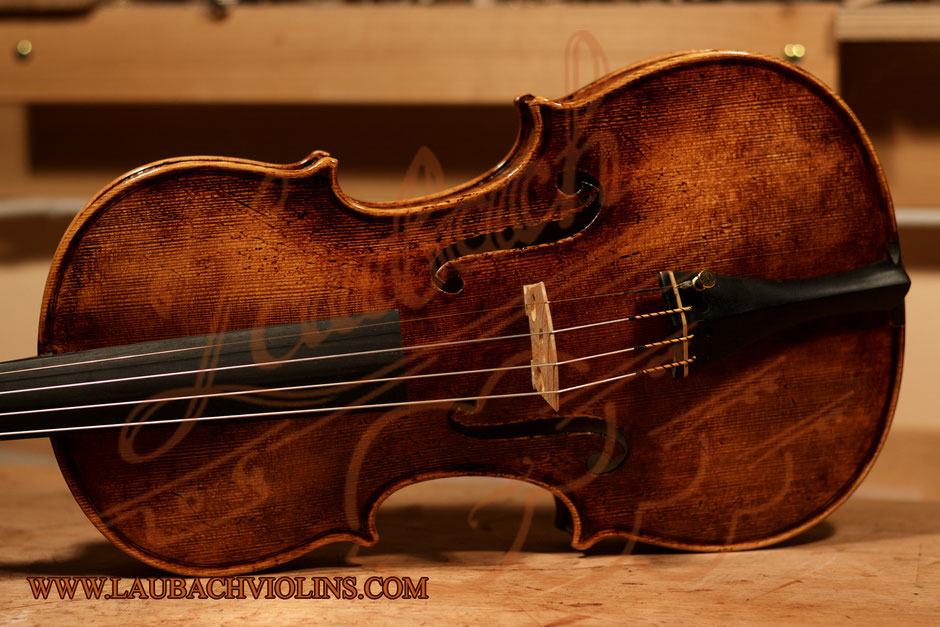 The acoustic old violin wood used is of a very high quality.
The meticulous craftsmanship enhance delicate edges and elegantly hooked corners.
The  oil / spirit antique violin varnish is with golden-coloured ground.
This Violin has a very good sonority quality.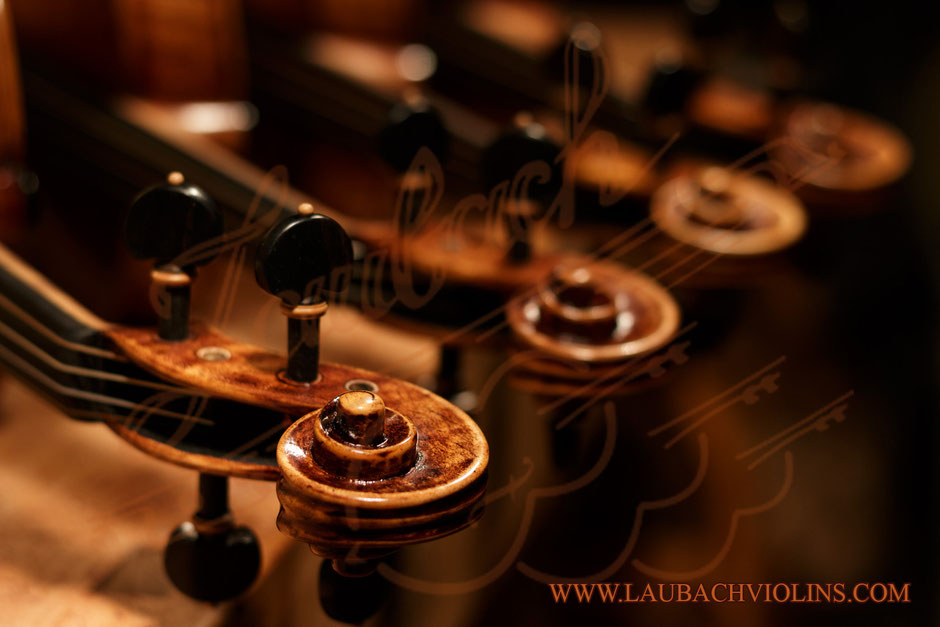 It should be noted the fine workmanship. This style can also be seen to good effect in the carving of the head which is generously proportioned and excellent quality of the sound..
The result of this effort is a reasonably priced instrument that competes with older ones at a fraction of the cost.
This Laubach violin responds very easily and has a warm and colourful sound across all registers.
This slightly small violin displays maple back, sides and scroll of stunning maple.  The spruce top is covered with 'hazel', or 'bear claw', throughout.  With a dark velvety tonal character, this instrument is very comfortable to play and has plenty of reserve.
   Violins may often look the same for non specialists. But like the human voice, each sounds different. And some sound better than others! Your choice of which violin, even the smallest violin size difference, can greatly impact both a student's progress and enjoyment of the instrument. A good Master instrument has a clear sound, easy responsiveness, and no squeaking. A poor factory violin can sound scratchy, feel unresponsive, and be so difficult to play, it is virtually impossible to produce a tolerable sound, let alone a good one. Certainly, the larger the instrument the better then tone. But even the smallest sizes can sound pretty good, but may be hard to find...
You have the opportunity to order the manufacture and buy Laubach small sizes master violin of the following diminutive sizes: 1/2, 3/4, 7/8,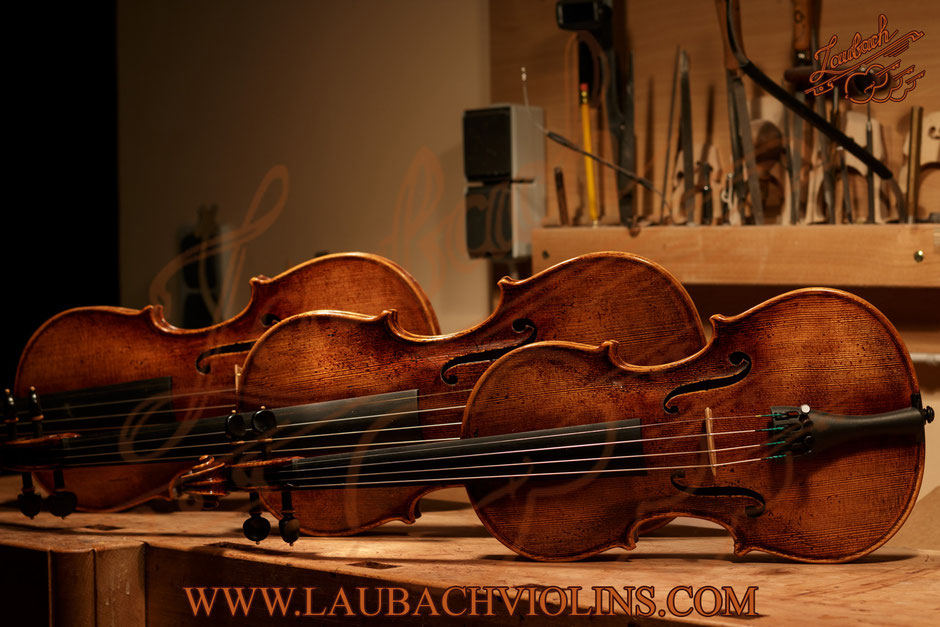 Laubach workshop specializes in building small-sized violins with excellent sound characteristics for participating in music competitions, solo and concert games.
The Laubach limited edition small violins actually sound like full size 4/4 old master violins.
This instrument produces an even pure sound with plenty of reserve.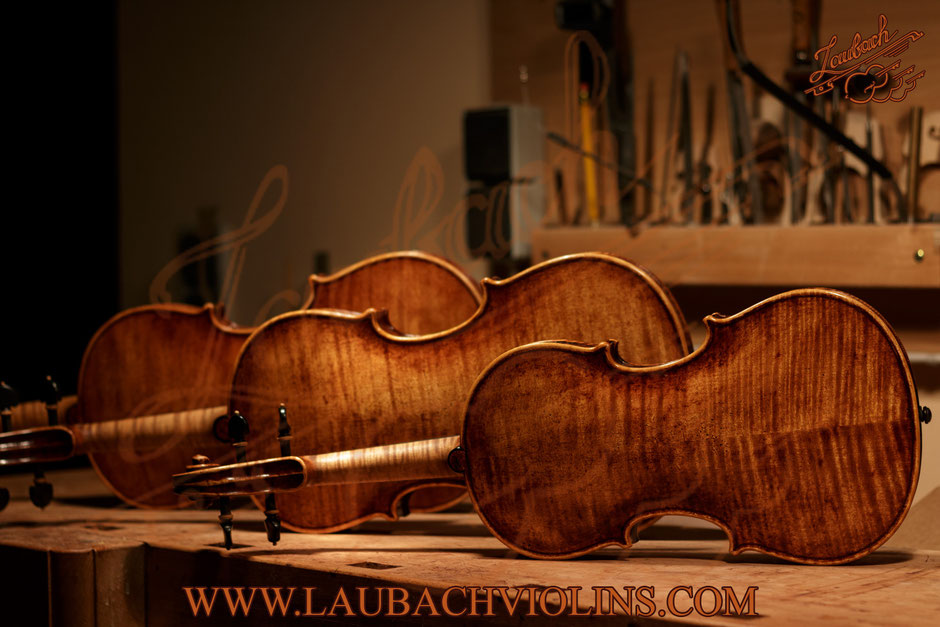 An experienced master I. Laubach who specializes in the manufacture of small sizes of solo or concert violins, taking into account the individual characteristics of the physique and growth of the musician, can always build a small instrument with the characteristics of a full 4/4 violin.
Our half sized Laubach 1/2 violin being played by a student at the Piccolo Violino Magico event in Italy. This violin is designed equally as complex as a normal sized violin, but is made for talented and gifted to children to ensures winning the most difficult and demanding competitions.
 Pochebut Margarita (9 years) playing the Laubach limited edition master 3/4 violin model 168V.
This model "Ltd. Edition-168V Birdseye" is Amber-brown antique hand varnish with natural resins with a maple back which is called "Birdseye". It's recommended for soloists because it has a really bright solo sound. This master instrument has a dazzling, quick resonance that would impress any audience. The red brown varnish is Laubach's own master creation that adds both beauty and character to the sound.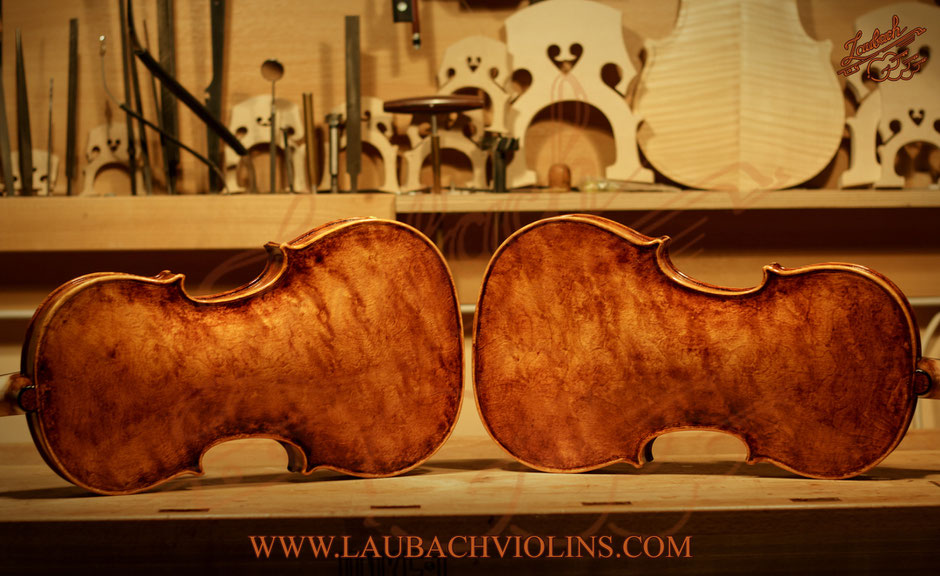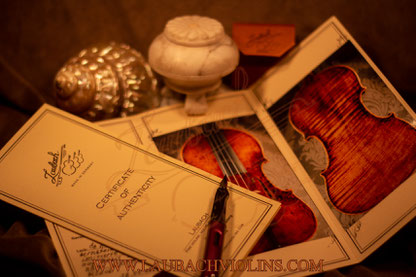 Accompanying each Master instrument from Laubach is a certificate of authenticity, including three photos of your instrument to aid in appraising and insuring.
You will find more information about the certificate for handmade Laubach limited edition violins in the certificate section.
How to Prepare to Purchase a Master Violin

When you are considering purchasing an instrument, it is important to know what price range you are comfortable with. It's also a good idea to have the money available so that when you find the right instrument you can pay for it. (Most violin shops do not allow payment in installments)...

Many violin players purchase instruments and bows directly from other fiddle players. This can prove to be unwise because unless you are an expert on violin identification, repair and set up you might end up over paying or purchasing something different than what you were told you were getting.

It makes sense to buy an instrument from an established violin dealer or maker. That way, if you have a problem or need an adjustment to your instrument you can go back to someone who will stand behind the instrument.

If you plan to try instruments at a shop, it is courteous as well as expeditious to phone ahead for an appointment first. Make sure that you tell them what price range you are looking at so they will have time to gather the instruments and get them tuned before you arrive.

When testing fiddles it is a good idea to play a G major scale. That way you can hear the whole range of the instrument. Once you have auditioned several go back to your favorites and play some of your tunes on each one. Listen carefully for tone check to make sure the instrument is easy to play and has a fast response. When you narrow your decision to a couple of instruments, ask the shop to allow you them out on approval for a week or so in order to spend more time making a good decision. Make sure that you return whatever you don't want to the shop in a timely manner.